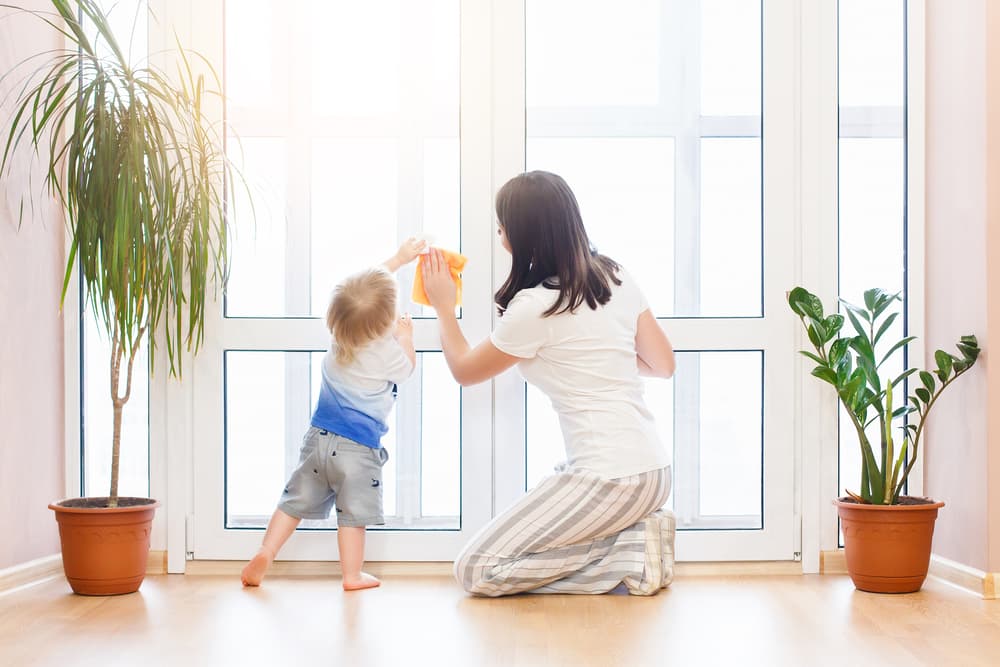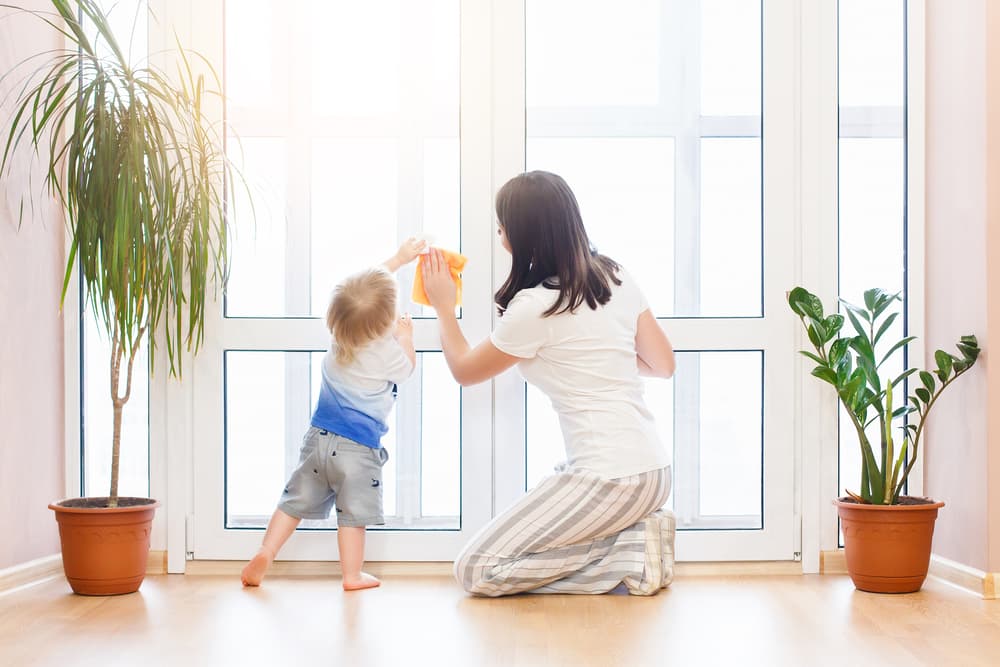 Wondering how to get those smudge marks or stubborn dirt and grime off of your glass? As versatile as glass may be, it can also be a tricky material to maintain – especially if you have younger kids or pets. And without using the proper techniques, all of your scrubbing and wiping can end up leaving your windows covered in streaks, which just adds insult to injury with more work for you. Instead, let's make life a little easier by showing you how to get your glass surfaces crystal clear with maintenance tips.
Here are our top glass and windows care tips for a spotless sparkle:
Clean Them Often
Neglecting glass surfaces and letting dirt particles accumulate can leave them more vulnerable to scratches. That's why frequent upkeep is important to prevent any grit and dust particles from causing damage and dulling the surface. We recommend cleaning them daily if possible, or at a minimum, three times per week to avoid having any build-up that could leave your windows and glass looking scraped up.
Avoid Harsh Cleaners
Chemical cleaners can be very effective at polishing up your glass, but they can also end up doing more harm than good. If the product dribbles down, the harsh ingredients found in most of these cleaners can end up ruining your frames, whether it's your windows or your mirrors. So whenever possible, stick to more natural cleaners, or use a homemade cleaning solution that can be just as effective without any leaving any potential damage behind.
Clean with Vinegar, Soap and Warm Water
Believe it or not, you likely have everything already at home to make the best cleaner for your glass and windows. These three simple ingredients are all you need to get that spotless shine. Vinegar works to break down the stubborn grime, the soapy suds helps your squeegee glide easily along the surface, and the warm water brings them both together to create some window cleaning magic. So skip the cleaners and make it yourself.
Always Use Coasters and Mats on Glass Tabletops
Homeowners often use glass overtop of their coffee table, kitchen table or other delicate surfaces to protect them from damage. But the glass should also be treated with care. Always use coasters and mats on glass surfaces before placing down any items to avoid having water rings, scuff marks or scratches left behind.
Use a Microfiber Cloth to Buff Glass
When you need to give your glass a quick wipe, use a soft microfiber cloth to clean it gently. Old rags and paper towel are generally too abrasive. Plus, they can also double up your work when they leave bits of the towel and lint behind on the glass. A microfiber cloth is very gentle and effective at getting those glass surfaces to really shine.
Clean Your Windows in the Shade
Cleaning your windows during the daytime and in direct sunlight can cause the cleaner to dry rapidly, which can leave behind those annoying marks. And after you've worked up a sweat to get them clean, it can be incredibly frustrating when you finally sit down and see how messy they still look. This often happens when the sun glares down and dries out your cleaning solution on the glass faster than you can clean and wipe it away. So instead of enduring the aggravation of cleaning during peak hours during the day, save yourself the extra work and clean them in the shade or during the evening time when the sun and heat are less intense.
Use a Squeegee When Washing Them
There's a reason why you'll see any pro windows cleaners using a squeegee. It's one of the most effective ways to get them clean and streak-free with minimal effort. Once you apply some of your handy homemade cleaning solution to the glass, use the squeegee in an "s" pattern for the best results. And don't forget to keep a damp cloth on hand to wipe up any drips.
Keep Children or Pets Away
It may not be the easiest task, but if you can keep kids and pets away from your glass surfaces, you'll have far less to do when it comes to maintaining them. Fewer smudge marks and fingerprints mean less work for you.
Dry the Frames After Cleaning
Give your window or mirror frames a thorough wipe after cleaning them. Any moisture that may have dripped down on to them while cleaning can end up ruining the coating on the frames. This can cause the paint to peel, it can leave behind stains or even lead to wood rot if there's moisture left there frequently.  So make sure always to give them all a final wipe to ensure they're dry.
Whether you're looking for maintenance advice, repairs, replacements or specialized services, when it comes to glass, we're you're go-to experts at M&T Glass. We're Ottawa's leading supplier of high-quality glass products and can provide what you need with affordable rates. Contact us today to learn more!